Cremation and Memorial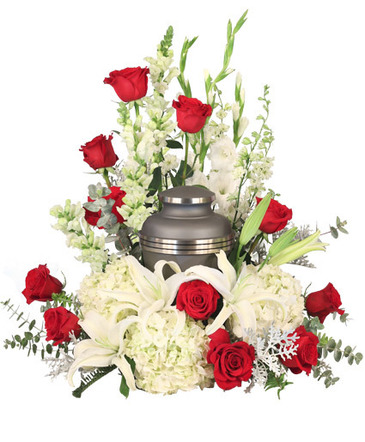 Missing You Urn
Cremation Flowers
(urn not included)
Honor and celebrate the fruitful life of a lost loved one with an arrangement that truly encompasses their elegance. The Missing You cremation arrangement is a luxurious addition to any memorial service. Encompassing the urn of your choice, this arrangement features majestic white hydrangeas that will ease the minds and comfort the souls that are grieving with contrasting red roses to represent the vibrance of their life. Urn Not Included
$150.00, $175.00, $200.00
Shown at $175.00
MISSING YOU URN
CREMATION FLOWERS
(URN NOT INCLUDED)
Foliage: Eucalyptus (Baby Blue), Sword Fern, Dusty Miller, Red Roses, White Snapdragons, White Gladiolus, White Larkspur, White Hydrangea, White Lilies.
Honor and celebrate the fruitful life of a lost loved one with an arrangement that truly encompasses their elegance. The Missing You cremation arrangement is a luxurious addition to any memorial service. Encompassing the urn of your choice, this arrangement features majestic white hydrangeas that will ease the minds and comfort the souls that are grieving with contrasting red roses to represent the vibrance of their life. Urn Not Included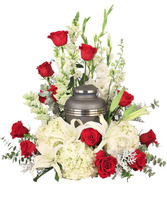 $150.00
$175.00
$200.00
Shown at $175.00
Cremation and Memorial Flowers
Flowers serve as an inspiration and a tribute to friends and loved ones during trying times. Cremation urn and memorial flowers can act as a personal expression of love or as a warm send-off. When you work with Cherry Lane Flower Shop, we endeavor to illustrate the essence and memory of your loved ones with a beautiful floral expression of their lives. Our selection of floral inspiration covers a wide variety of personalities and tastes. Looking for something different, or want to add a personal touch? We also do custom arrangements. Call for pricing.